Driving Success is our Community Curriculum
At  NCEA Warkworth C of E Primary School, we are committed to providing the highest quality of education to enable all of our pupils to thrive.
Led by our Christian Vision and in consultation with all stakeholders we developed our curriculum drivers, see below. They have enabled all stakeholders to implement a rich and varied Community Curriculum which encourages pupils to think deeply, take part in social action and inspire a love of learning.

Our curriculum drivers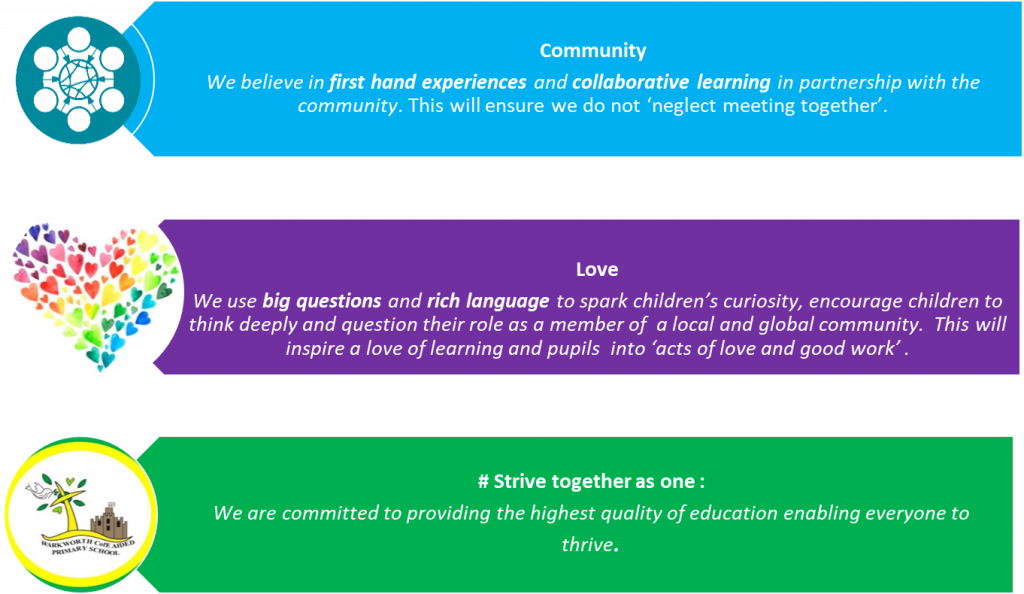 Curriculum Teams
At NCEA Warkworth Primary, we want to make sure everyone is supported and that we live out our vision and ' # Strive together as one' (Philippians 1:27). Therefore, our curriculum is now structured and led by teams. Within each team there is a member of the governing body and a member of staff representing EYFS, KS1 and KS2. This ensures that we all have an overview of the whole curriculum from EYFS to Year 6. Click below to view our curriculum teams.
Mental health and well-being, PSHE including RSE, SEND and PE
Staff: Mrs Coils, Mrs Gibson, Miss Baston and Mrs Webster.
Governors: Jill Wharton
RE and Spiritual Development
Staff: all teaching staff
Governor: Reverend O'Sullivan
Reading
Staff: all teaching staff
Governor: Mr Morrison
Language and Communication (French, vocabulary, writing and computing)
Staff: Miss Pringle, Mr Teasdale, Mrs Morris and Mrs Southward.
Governor: Mr Petch
Numbers and Calculation
Staff: Mrs Frater, Miss Jack, Miss Fife and Mrs Stones.
Governor: Mrs Orr
Knowledge and Understanding (history, geography and science)
Staff: Mr Teasdale, Miss Fife, Mrs Morris and Mrs Stones.
Governor: Professor Hobrough
Creative Development (art, music, drama and D&T)
Staff: Ms Young, Miss Jack and Miss Baston.
Governor: Mrs Forsyth

Progression Plans
For each subject area, our curriculum teams have worked together to create progression plans and intent statements based on our curriculum drivers.
Read Write Inc
White Rose Maths
Science
Humanities
Religious Education
Art and Design
IT
Music
French
PSHE
Schemes of Work
Read Write Inc
In EYFS and KS1 we use Read Write Inc. (RWInc). This is a consistent, rigorous and dynamic literacy programme that uses synthetic phonics to help children quickly learn to blend letter sounds together, following a fun and effective programme.
As well as reading, it includes spelling, writing grammatically accurate sentences, writing for different purposes and builds up an adventurous vocabulary. There are also many opportunities to build up skills in speaking and listening. Children get a great sense of achievement and develop confidence in the fast moving yet very supportive sessions.
Accelerated Reader
Accelerated Reader is a computer programme that helps teachers to manage and monitor children's independent reading practice while encouraging a self-guided love of reading. Used by our pupils in years 3-6, children pick a book that interests them at their reading level and read through it at their own pace. When finished, pupils take a short quiz on the computer. (Passing the quiz is an indication that they understood what was read). Accelerated Reader then provides feedback based on the quiz results, which the teacher uses to help pupils to set goals and direct their ongoing reading practice.
White Rose Maths (WRM)
From Reception to Year 6 we use the mixed-aged planning from White Rose Maths to help pupils of all ages to develop a deep understanding of maths as they progress through the curriculum. Click here to view the progression document that we follow in school.
Charanga
Charanga is a music scheme which aims to develop children's musical understanding, help them to make musical judgements, apply their new learning, develop their aural memory, express themselves physically, emotionally and through discussion and create their own musical ideas.
As part of the scheme, children not only learn about music; they become musicians who are able to share and perform using their new skills. The units of work in Charanga are divided into 6 steps and the activities and games cover the musical dimensions, (formerly elements – pulse, rhythm, pitch etc) through singing and playing instruments, listening and creating music.
Language Angels
In KS2 (Years 3- 6) we use Language Angels to teach French on a weekly basis. Units vary from early language units (which are ideal for children with little or no previous knowledge of foreign languages) to intermediate units (ideal for pupils building up their foreign language expertise) through to progressive units (which are great for extending and challenging pupils with a sound understanding of the basics of the language they are learning).
PSHE (Personal, Social, Health and Emotional) Development
During key stages 1 and 2, PSHE education offers both explicit and implicit learning opportunities and experiences which reflect pupils' increasing independence and physical and social awareness, as they move through the primary phase. It builds on the skills that pupils started to acquire during the Early Years Foundation stage (EYFS) to develop effective relationships, assume greater personal responsibility and manage personal safety, including online. PSHE education helps pupils to manage the physical and emotional changes at puberty, introduces them to a wider world and enables them to make an active contribution to their communities.
Relationships, Sex Education (RSE)
From September 2020, all primary schools are required to teach relationships and health education in school. All primary school have also been asked to consult on sex education. During November 2019 we consulted with stakeholders and met with parents, governors, pupils and staff. The result of the consultation was that we will teach sex education in year 5 and 6. From February 2020, we will teach sex education; however, this is not compulsory and parents can opt out of this. Please see our policy which includes a progression map of objectives covered in each year group. 
Would you like to know more?
If you have any specific questions about your child's learning in a particular subject area, contact the school office on 01665 711369 and a member of staff will be happy to assist you.