Religious Education at NCEA Warkworth Primary
In line with the Church of England's vision, we strive to 'promote educational excellence everywhere, for everyone,' and emphasise the importance of spiritual, physical, intellectual, moral, emotional and social development and "Life in all its fullness," (John 10:10) for our pupils.
Our Religious Education curriculum uses a combination of the syllabus from the Diocese of Newcastle and Durham for world faiths and Understanding Christianity. Throughout the curriculum, we permeate the Church of England's values and vision for the development of:
Wisdom, knowledge and skills;

Hope and aspiration;

Community and living together well and

Dignity and respect.
Aims of Understanding Christianity
To enable pupils to know about and understand Christianity as a living world faith, by exploring core theological concepts.

To enable pupils to develop knowledge and skills in making sense of biblical texts and understanding their impact in the lives of Christians.

To develop pupils' abilities to connect, critically reflect upon, evaluate and apply their learning to their own growing understanding of religion and belief (particularly Christianity), of themselves, the world and human experience.
Understanding Spirituality
At NCEA Warkworth C of E Primary school we believe that spiritual development is not necessarily or exclusively religious but is the development of children's mind, body and spirit. "Spirituality is generally viewed as enriching individuals in their understanding of and ability to relate to, others and as a society as whole," (SCAA 96).
Our Approach
Our vision focuses on the holistic development of each and every child of God; enabling all pupils to flourish and reach their God given potential. We actively provide opportunities across the curriculum for our children to reflect, think deeply, fully appreciate the world around them and be agents of change in their school, the community and as global citizens. Each RE lesson, worship and topic covered in school always begins with the children's 'big questions' and then, until recently (September 2021) we used the windows, mirrors and doors approach.
Through our Pupil Voice forum, pupils identified that the 'windows, mirrors and doors' approach was difficult for them to remember and so as a school, we began exploring other options to explain spirituality.
Pupils suggested that when discussing spirituality they needed a simpler definition, one that really meant something to them as it's at the heart of everything they do! They suggested using the school rules and reflecting on the big questions and experiences through these:
Love yourself;

Love each other and

Love the world!
As part of this discussion they identified that we were missing one key element and so for our spiritual approach, they added 'And beyond'. An example of this could be: is there a heaven?
NCEA Warkworth Primary is now trialling this approach to spirituality when talking to pupils; however, for now, all planning will keep the windows, mirrors and doors approach.
Exploring RE lessons at Warkworth C of E Primary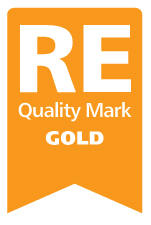 We are very proud to announce that in 2020 we received the Gold Award for RE! Check out some of the exciting things that we get up to in RE lessons across the school using the drop down menus below.
Click here to find out more about Religious Education within our wider curriculum.